(Bloomberg) — Drillers in the Eagle Ford, Texas's other shale oil patch, will likely scale back activity in 2019 as lower crude prices eat into cash flows, according to consulting firm Rystad Energy AS.
Production has already started slowing, with supplies this month expected to average less than 1.3 million barrels a day for the first time since May. If West Texas Intermediate crude prices stay below $50 a barrel, output could fall to 1.2 million by the end of the year, said Artem Abramov, Rystad's vice president of shale analysis. That's 12 percent below the two-year high reached in October.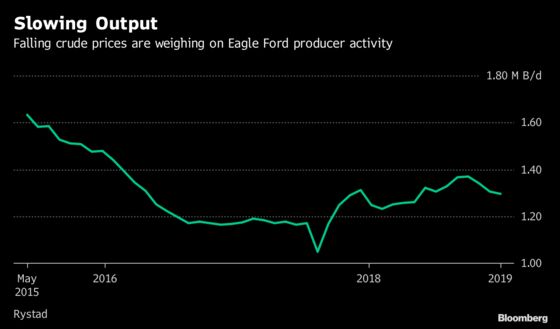 "Most of the producers we have talked to plan to reduce activity this year," he said by phone.
WTI crude futures plummeted 38 percent last quarter, marking the biggest quarterly decline since 2014. At less than $50 a barrel, producers in the western reaches of the Eagle Ford can't make a profit and may find it difficult to balance cash flows with operating costs, Abramov said. Sanchez Energy Corp. and Chesapeake Energy Corp. are especially likely to scale back given their positions in the western part of the play, he said.
Chesapeake spokesman Gordon Pennoyer declined to comment. Sanchez didn't immediately respond to a request for comment.
Drillers in the Eagle Ford's central basin will fare better, with break-evens ranging from the mid-$20s to the low $30s, according to Abramov. And don't worry about shut-in wells — producers have an incentive to wait for prices to recover before closing the tap. "If they decide to shut their wells, it would be difficult for the producer to return to pre-shutdown levels," he said.
To be sure, the Energy Information Administration sees output continuing to rise in the Eagle Ford, at least through this month. The latest Drilling Productivity Report estimates production will rise to 1.43 million barrels a day in January.
Sheela Tobben ©2019 Bloomberg L.P.