Bloomberg – Oil rose above $43 a barrel in New York, snapping a two-day drop, as China's economic recovery continued.
West Texas Intermediate futures pared gains after rising as much as 1.4% and were 16 cents higher at $43.13 a barrel as of 5:40 p.m. in Dubai. Brent crude for November settlement climbed around the same amount to $45.94.
Data showed China rebounded further in August as the world's second-largest economy emerges from its coronavirus-induced slump. That helped push up global stocks for a second day, while U.S. Treasuries fell as investors moved out of havens.
Goldman Sachs Group Inc. in a note Sunday raised its year-end forecast for WTI to $45.50 from $40, and for Brent to $48 from $43.
"The market managed to remain in deficit despite a global second Covid-19 wave, with U.S. cases now declining without U.S. oil demand having to fall," said Goldman analysts including Damien Courvalin and Huan Wei. "Fundamentals appear skewed to a faster re-balancing" given the rising likelihood of vaccines being available by the U.S. spring and that major oil-producing companies are keeping capital expenditure low, they said.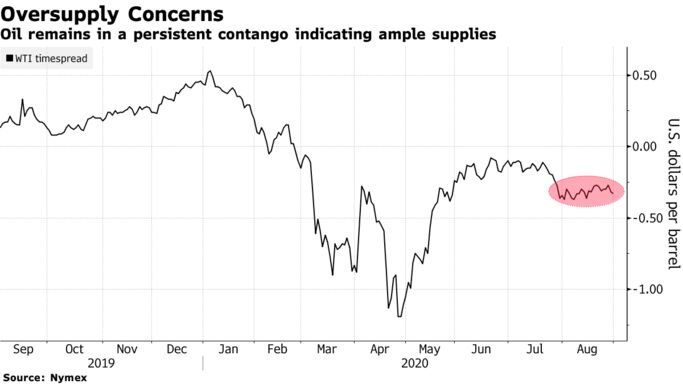 Even so, concerns that many nations have yet to contain the virus are anchoring WTI around $43. The market is also contending with signs that Chinese crude purchases are starting to slow. Oil traders expect Saudi Aramco, the world's biggest exporter, to react to weak refining margins by slashing Asian pricing of its key Arab Light grade for October shipments by $1 a barrel, according to a Bloomberg survey. That would push pricing below the benchmark used by the Saudis for the first time since June.
While most OPEC+ countries are easing their historic output cuts from earlier in the year, the United Arab Emirates' main producer signaled it would do the opposite. Abu Dhabi National Oil Co. said on Monday it would reduce contracted supplies by 30% in October.
U.S. Gulf Coast refineries, meanwhile, are restarting following Hurricane Laura, which mostly spared the region's energy infrastructure, muting its impact on global markets.
Laura was one of the most powerful hurricanes to ever hit Louisiana, and U.S. Gulf Coast refiners halted around a third of gasoline and diesel production as the storm approached.
But hopes of prices edging toward $50 a barrel by September were "wishful thinking," said Eugen Weinberg, Commerzbank AG's head of commodity research. If oil stays at today's levels, U.S. shale production probably won't increase, he said.
U.S. explorers parked more rigs last week as stagnant prices push the industry to curtail activity. The number of active machines fell by three to 180, according to Baker Hughes Co. data released Friday.
"Oil still looks positive, but it's going to grind higher rather than race because there are still concerns regarding the consumption side of the equation," said Jeffrey Halley a senior market analyst for Asia Pacific at Oanda. "Whichever countries opened up, Covid-19 has made a return."